=-=-=-=-=-=-=-=-=-=-=-=-=-=-=-=-=-=-=
Kids Love Playing Dress Up
- by Marian Lewis
© 2005 Marian Lewis – All Rights Reserved
1st Step To Sewing Success
=-=-=-=-=-=-=-=-=-=-=-=-=-=-=-=-=-=-=
Give the kids a "Dress Up Box" of costumes for Christmas!
Play Halloween all year long and create lasting memories!
Hi Sewing Friend!
I was just putting the finishing touches on a long black coat that my grandson wants to wear to his college "Halloween Party." He is going as the guy from "The Matrix." I told him it would be a great witches' coat, too, but he prefers "The Matrix." It is made from a black denim fabric and is floor length. With his dark glasses, he looks "way cool!"
While doing this, my mind was flooded with fond memories of making "costumes" for my grandchildren. I made so many of the Disney characters, all of the princesses and princes and an awful lot of other story book and cartoon characters. Plus, I'm not sure how many Renaissance Faire outfits I put together for them.
What fun for me and the kids. They still love to dress up and they are adults now.
Some of their favorite outfits are treasures to them. They won't give them away even though they outgrew them years ago. They are saving them for their children.
WOW! How cool is that!
I know that Halloween time is the season many of you get out your machines and sew. But, don't just think of Halloween costumes.
Why not sew up several play outfits or costumes and put them into a "Dress Up Box" to give the kids for Christmas! Both boys and girls love this.
Kids need some creative play time. Everything doesn't have to be an electronic gadget!
Clean out your old costume jewelry, old hats, scarves, handbags, belts, gloves, formals, shoes, etc., and add them to the box. If you don't have anything, go to the Goodwill Store and look for bridesmaids hats, formals, boas, beads, etc. Peasant blouses make great pirate shirts.
Add a make-up kit if Mom allows. They love make-up!
Now is the time to pick up some funny wigs, too. Party and costume stores as well as large stores like "Walmart" and "Target" have lots of accessories to add this time of year.
These are gifts of love that form a bond between you and your grandkids forever. They won't remember the gadgets, nor will they remember the checks or money you give them.
They absolutely will always remember their special "Dress Up Box". They will remember being "Tinker Bell" or "Jasmine" or "Belle" or "Captain Hook" or "A Musketeer" or even "The Matrix."
And, they will always remember, too, that "Gammy did it!"
PS: If you don't sew, watch for costume sales after Halloween and scoop them up for your Christmas "Dress Up Box." Have fun!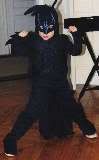 =-=-=-=-=-=-=-=-=-=-=-=-=-=-=-=-=-=-=-=-=-=-=
End Of Article
=-=-=-=-=-=-=-=-=-=-=-=-=-=-=-=-=-=-=-=-=-=-=
PS: If you enjoyed this article or have a comment, please do so here on my Sewing Blog.
Actually, you can check out most of my articles here. You might find something that interests you. I welcome your feedback :-)
=-=-=-=-=-=-=-=-=-=-=-=-=-=-=-=-=-=-=-=-=-=-=
If you have sewing related questions that you would like to have answered, ask them here or at:
=>
http://1ststeptosewingsuccess.com/questionburning.html
I'll do my best to answer them for you.
=-=-=-=-=-=-=-=-=-=-=-=-=-=-=-=-=-=-=-=-=-=-=
Marian Lewis is a sewing instructor, author and creator of an amazing new fitting method for hard-to-fit sewing folks who want great fitting skirts and pants. In her mini-course ebook, she teaches step-by-step common sense techniques how to find out WHAT you really need, WHERE you really need it and HOW to apply that to a commercial sewing pattern.
Marian is also the author of many articles and other mini-course ebooks related to sewing highlighting, "It Doesn't LOOK Homemade"Sewing Techniques.
Copy and paste the link now to check out her website at:
=>
http://www.1ststeptosewingsuccess.com/
Discover Fitting And Sewing SecretsTo Achieve Sewing SuccessFor information on the mini-course ebook:
"Common Sense Fitting Method For Hard-To-Fit Sewing Folks Who Want Great Fitting Skirts And Pants"
Copy and paste the link:
=>
http://www.1ststeptosewingsuccess.com/fitting.html
For information on the mini-course ebook:
"Sew A Tee Pee And Accessories For Your Tribe Of Kids"
Copy and paste the link:
=>
http://www.1ststeptosewingsuccess.com/sewing.html
For information on the mini-course ebook:
"Classy Designer Straight Skirt"
Copy and paste the link:
=>
http://www.1ststeptosewingsuccess.com/sewing.html
=-=-=-=-=-=-=-=-=-=-=-=-=-=-=-=-=-=-=-=-=-=-=
**Attn: Ezine editors / Site owners **
Feel free to reprint this article in its entirety in your ezine, blog, autoresponder, or on your site so long as you leave all links in place, do not modify the content and include our resource box as listed above.
Please let us know if you use the article and where you put it so we can take a look. Thanks!Feel free to substitute your affiliate link in place of our link in the resource box.
Affiliate details are available here:
"1st Step To Sewing Success" Affiliate Program
=>
http://www.1ststeptosewingsuccess.com/affiliate.html
See more about
sewing
Keywords:
sewing
,
sewing tips
,
sewing techniques
,
sewing projects
,
how to sew
,
sew
Feed Shark
Link